"The finest quality in bathroom suite restoration"
Bath Re-enamelling & Restoration
Specialists in bath re-enamelling & restoration. Expertly removing cracks or defects from your bath, including cast iron, acrylic, ceramic, roll top & pressed steel.
Learn More »
Tap Hole Masking & Relocation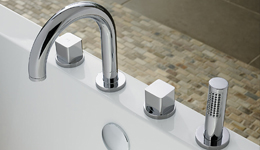 Fancy some new taps but don't want to replace your bath or sink? We can expertly relocate your holes so you don't have to.
Learn More »
Reclaimed Baths, Sinks & Radiators
We have a range of high quality reclaimed baths, sinks & radiators. Our range includes roll top baths, Belfast sinks and cast iron radiators.
Learn More »