Tap Hole Relocation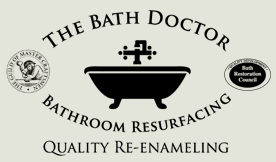 Thinking of refurbishing your bathroom and changing your taps, but don't like the thought or added expense of replacing your bath or sink? Aqua Bath Coatings can professionally mask off any existing tap holes and relocate them with minimal disruption.

Aqua Bath Coatings owner, Stephen 'The Bath Doctor' Lowe, is an expert craftsman, with specialist skills and many years of experience in restoring your bath back to it's original showroom condition.
Aqua Bath Coatings can repair and restore any bath, including Cast Iron, Pressed Steel, Acrylic, Roll Top, and Slipper.
"A big change made simple"
So if your looking to change from a standard two hole to three, top to side mounted, or change from bath mounted to free standing floor or wall mounted taps, we can help you by professionally masking off the original holes, then machining new holes if required to accommodate the new fittings.
Aqua Bath Coatings provide an unobtrusive, professional and efficient service, ensuring minimal disruption to your home or property, repairing & restoring your bath in situ, extending the life of your bath and returning it back to it's original glory.
Contact Aqua Bath Coatings today to discuss your individual project requirements