The Bath Doctor – Repair & Restoration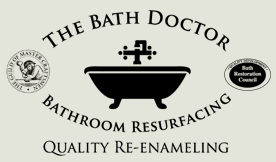 Aqua Bath Coatings specialise in the repair, restoration & re-enamalling of baths and sinks. Our master craftsman can repair any type of bath, including Cast Iron, Pressed Steel, Acrylic, Roll Top and Slipper. We can even recolour a bath suite.
Aqua Bath Coatings owner, Stephen 'The Bath Doctor' Lowe, is an expert craftsman, with specialist skills and many years of experience in restoring your bath back to it's original showroom condition. Aqua Bath Coatings can fix a multitude of problems caused by general use or accidental damage, such as:
• Bath & Sink Chips
• Bath & Sink Holes – Masking & Relocating
• Bath & Sink Cracks
• Bath Rust
• Enamel coming off
• Colour Fading
• Lime Descaling
• Reclaimed Bath & Sink Restoration

Aqua Bath Coatings provide bathroom suite repair & restoration services for both domestic home owners and commercial clients, with a high quality service and finish at an affordable price.
"Saving you the hassle & cost of a complete replacement"
Our commercial clients include Home Builders, Councils, Hotels & Guest Houses, Estate Agents & Landlords, Insurance Companies, and Interior Designers.
Aqua Bath Coatings provide an unobtrusive, professional and efficient service, ensuring minimal disruption to your home or property, repairing & restoring your bath in situ, extending the life of your bath and returning it back to it's original glory.
Whether it's a feature bath you love and just couldn't part with, a bath you've reclaimed that needs loving back to life, or just your regular bath that has seen better days, The Bath Doctor can revive your bath, saving you the hassle and cost of replacement.
It's funny how many people don't even realise that baths and sinks can be repaired. Well now you do, so why not contact us today for a chat to see how Aqua Bath Coatings and The Bath Doctor can help you.